For any rebuild to be deemed a success a lot of draft picks are needed but more important, players selected in the drafts must pan out. It is a given not every player drafted will make it to the NHL. The Detroit Red Wings, Jonatan Berggren is a player that being drafted buy the organization in 2018 is a case of a prospect taking the next step which should prove good for the Red Wings.
At just 5 feet 11 inches there is a lot of hockey in Jonatan Berggren small frame. Who's scouting report indicated a solid player was in there and just needed time to come out. Coupled with a few injuries it took perhaps a tad bit longer to show why the Red Wings drafted him, yet Berggren is now showing it on a more consistent basis.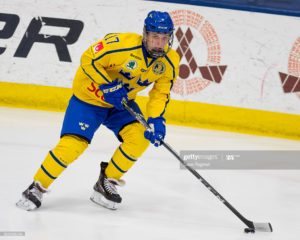 Currently playing in the Swedish Hockey League, Jonatan Berggren is playing at a better than a point a game clip. In 17 games played Berggren has four goals and 15 assists. 
When the Detroit Red Wings drafted Jonatan Berggren it was for his well known ability to be a a play-maker. The smallish forward's game is well rounded. His combo of speed and skill makes him dangerous in the offensive zone while Berggren's defense is solid as well.
Given the growth Berggren's game has seen, it is very possible the Red Wings will bring him back to Detroit in time for training camp whenever the NHL figures out the logistics of how the 2020-21 season will be played.
"Playing in the NHL is something I've been thinking about, and dreaming of since I started playing," Jonatan Berggren said recently. "And now I'm closer to realizing that dream than ever. It's all about that final push. And if I think about all the work I've put in to be able to try to make that push. It has all been worth it."
The work Jonatan Berggren has put in is about to pay off for him and the Detroit Red Wings will be the beneficiaries of the young forwards improved play.