It is not often in sports trades that both teams win. Yet, Saturday night the Detroit Lions sent veteran quarterback Matthew Stafford to the Los Angeles Rams for Rams starting quarterback Jared Goff, a 2022 first round draft pick, a 2023 first round draft pick and a 2021 third round draft pick. New Lions General Manager Brad Holmes absolutely nailed his first big move. However, he also publicly made known what has been whispered, the Detroit Lions are in for a massive rebuild.
A week after the regular season ended, Matthew Stafford and the Detroit Lions agreed to go separate ways. Stafford did not want to go through another Lions rebuild and the new Lions front office and coaching staff wanted to bring in their own players.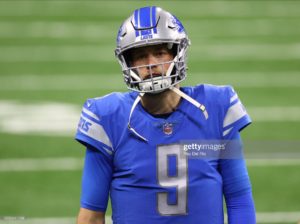 Stafford is the Detroit Lions all-time leader in all things quarterback. He owns all the Lions quarterback records. He was a good player to be sure. Stafford will always be remembered fondly by Lions fans and should be. But this is about what is next for the Detroit Lions.
Next is a massive rebuild that suddenly does not have to start by drafting the next franchise starting quarterback. It could, but it does not need to happen in the 2021 NFL draft. Let me explain.
By trading Stafford to the Rams the Lions get former Rams starting quarterback Jared Goff. While Goff has regressed the past couple seasons he does offer quite a bit to the Lions. He did lead the Rams to the Super Bowl just two years ago.
In the NFL a quarterback who struggles with a team often finds new life once he leaves for a different franchise. Case and point Ryan Tannehill who struggled with the Miami Dolphins found new life with the Tennessee Titans.
Goff has a huge contract which the Lions were fine with taking on because the Rams were willing to eat part of the contract. Goff signed a $134 million deal with $110 million in guarantees in 2019. The Rams will retain 22.2% of the contract.
Now the real prize for the Detroit Lions is the three draft picks. By getting two first round picks in each of the next two drafts this will help to speed up the rebuild. The Detroit Lions now do not need to draft a quarterback in this years draft. Unless the prospect they want is there, the team can focus on one of the many needs and address that. While it is very likely the Rams wanted to rid themselves of Goff's contract the draft picks were the real get for Detroit.
Goff will enter the 2021 season as the Detroit Lions starting quarterback, after that all bets are off.