The Detroit Lions drafted defensive back Jeff Okudah with the third pick in last years NFL Draft. Okudah, started just six games and appeared in nine due to a hamstring injury that lingered throughout the season. When he was healthy, Okudah did not play well. At all. Enter new Lions head coach Dan Campbell who likes Okudah and believes his issues may all stem from a lack of confidence.
It needs to be stated that the NFL is typically rough on first year defensive backs. But Jeff Okudah had a rookie season to forget. Yet it seems that Okudah is a player the Detroit Lions are going to lean into during a massive rebuild.
Lacking confidence for any athlete is not good for player, coach's, organizations and fan bases. Defensive backs already have a spotlight on them. They are all alone trying to cover the guy with world class speed across from them.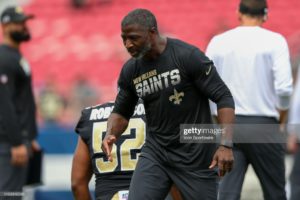 Defensive backs even the good one, even Hall of Famers, have been beaten more than once. The good ones figure it out. Defensive backs need to be thick-skinned. That sound easy, it is not.
Jeff  Okudah had 47 tackles, 4.0 tackles for loss, one interception and four passes defended in 2020. One thing that should be mentioned, Okudah spent his rookie season in Detroit, a team that fired it's head coach and front office after Thanksgiving.
Part of the issue I feel was former Lions head Matt Patricia's defensive system. New Lions defensive coordinator Aaron Glenn favors the Cover 1 with a little Cover 2 mixed in.
It is widely thought that Okudah is as good as advertised when the Detroit Lions drafted him. Dan Campbell said early this week he feels the players will be better because of the coach's he has brought in. Confidence starts at the head and trickles down. It is good that Campbell is confident about his coaching staff.
Jeff Okudah and fellow defensive back Amani Oruwariye give the Lions two promising corner backs to build the secondary around. I look for Jeff Okudah to rebound under Aaron Glenn's watch.