The new Detroit Lions coaching staff is working around the clock to watch film and get to know and understand the players on the Lions roster. New offensive coordinator Anthony Lynn, really likes what he sees in tight end T. J. Hockenson. So much so that Lynn in preparing an expanded role for a player who took a big step forward this past season.
This past season tight end T. J. Hockenson had  had 67 catches for 723 yards and six touchdowns last season in route to his first Pro Bowl game. Anthony Lynn believes Hockenson is just scratching the surface of his potential.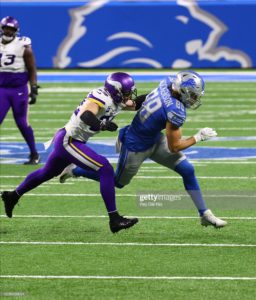 Anthony Lynn said it was nice that Hockenson made the Pro Bowl but that he and the rest of the Detroit Lions coaching staff believes that Hockenson can be even better and plans to expand the Detroit offense in order to bring that out in the gifted young receiving target.
The new-look Detroit Lions offense will be very tight end friendly. Don't believe me? Try this on for size, last season while as the head coach of the Los Angeles Chargers tight ends were targeted 93 times.
Lynn likes a high-level tight end on the roster because of what it can mean for the rest of the offense. Both in the passing game, downfield blocking and run blocking. To have a player as gifted as T. J. Hockenson it means that linebackers and safeties have to play a cleaner game. No cheating the line of scrimmage.
When the Detroit Lions drafted Hockenson in the first round out of Iowa in 2019 many thought he was the most NFL ready tight end in the draft. Hockenson struggled his rookie year and then took off this past season.
New Lions starting quarterback Jared Goff has a history of targeting tight ends. During his time as starting quarterback of the Los Angeles Rams Goff threw 316 passes to tight ends in his career, including 194 of them over the past two seasons this would seems to indicate a lot of usage for Hockenson in the near future.
For the rebuild Detroit Lions, they will lean heavily on the likes of running back D'Andre Swift and T. J. Hockenson to create miss matches.