Detroit Lions head coach Dan Campbell knows and has acknowledged the team is undergoing a massive rebuild. Yes there are current players who could and should make it out of the rebuild still with the franchise. Offensive Tackle, Taylor Decker, Tight End, TJ Hockenson,  Center, Frank Ragnow, and a few others should all be Detroit Lions after the rebuild. So should running back D'Andre Swift, who gives the Lions a legitimate threat running the ball.
Ever since Barry Sanders retired from the NFL in 1999, the Detroit Lions have been a graveyard for running backs. Enter D'Andre Swift who was selected by the Lions in the second round of last years NFL Draft.
D'Andre Swift is blessed with serious speed and playmaking ability. As a rookie Swift had 511 yards, while he accounted for 878 yards overall and scored 10 touchdowns, Swift also averaged 4.6 yards per carry for the season.
Swift gives Lions head coach Dan Campbell and new Offensive Coordinator Anthony Lynn a player who looks ready for a bigger role next season. Dan Campbell has made it clear he likes a run-first offense. A running back like Swift gives him an immediate impact player at the position his offense is said to revolve around.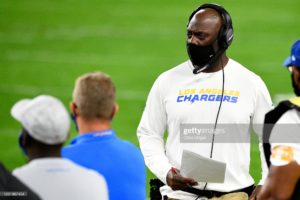 While he was an offensive coordinator before being head coach of the Los Angeles Chargers, Anthony Lynn also preferred a run first offense. When Lynn called the offensive shots for the Buffalo Bills he used the run 55% of the time to 45% pass. Lynn did not call offensive plays has a head coach.
With the aforementioned Taylor Decker and Frank Ragnow along with the Detroit Lions best and most consistent linemen Jonah Jackson who was a rookie last season as well, the Detroit Lions offensive line is in good shape going forward.
D'Andre Swift in a run-first offense has the ability to become a break-out player for the Lions as soon as next season. Even during a rebuild. The Lions will need to find another running back to help manage Swift's workload.
But going forward the Lions are in pretty good shape at running back.