The bad news, the Detroit Tigers rebuild continues. The good news it is closer to being over. More good news, the Tigers have the third pick in this years MLB Draft. In last years draft the Detroit Tigers went with all position players and no pitchers. Not on purpose mind you. The players selected kept falling into the Tigers lap and the team was right to draft them. So who might the Tigers select in this years draft? Let's take a look.
It is at this point where I'd like to remind you of my sheer distain for "mock drafts." They are rarely on point and are in my opinion an incredible waste of time to read and sift through. I prefer to look at the organization and see what needs they have. So here we go.
The Detroit Tigers organization is set with pitching. In fact the Tigers pitching prospects are ranked #1. That said if (and it is a big IF) Vanderbilt pitcher Jack Leiter is there at #3 the Tigers should pounce. Pun and no pun intended.
Leiter would be an incredible addition to a future Tigers starting rotation already featuring Casey Mize, Matt Manning and Tarik Skubal. The fact that Jack Leiter threw a no-hitter this past Saturday makes it impossible he slides past #3.
Another player who would be welcomed in Motown is top high school talent short stop Jordan Lawlar. There is a lot of talk that Lawlar is not only the best high school prospect but that he is better than Bobby Witt Jr. (Kansas City Royals.)
A Detroit lineup that features Spencer Torkelson, Riley Green, Isaac Paredes and Lawlar is enough to make Tiger fans drool with excitement. Those four would make a very good core to build around.
Next the Tigers are desperate for a catcher. If the team places this as a priority then University of Miami's (FL), Adrian Del Castillo would be ideal. Del Castillo brings power and patience with hit hitting. With 39 extra base hits and 43 walks an 32 strike outs in 77 games played, makes him attractive at #3.
It should be noted of the players I mentioned both Leiter and Lawlar (even though he is a high school prospect) are closest to being MLB ready. In my opinion, if the Detroit Tigers select one of the three plays mentioned they will be better.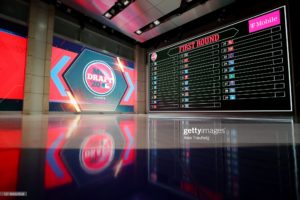 With the #2 ranked farm system The Tigers are poised to add talent and have the makings of a very good baseball team. July 11–13, in Atlanta, Georgia is the date to remember as the 2021 MLB Draft is set to take place.