It always felt like he could give more. Like he was a bomb waiting to go off. It finally happened this season. Columbus Blue Jackets forward Oliver Bjorkstrand took his game to another level. Not just offensively but defensively as well. Bjrokstrand has long been thought of as an underrated player. His 2020-21 breakout seasons showed that he has taken a big step and will be underrated no more.
Scoring was a huge issue for the Columbus Blue Jackets this season. Yet, Oliver Bjorkstrand was by far the teams most consistent player. With 18 goals, 26 assists and 44 points Bjorkstrand became the player many believed he always would be. Bjorkstrand joins former Blue Jacket, Rick Nash to lead the team in goals in consecutive seasons.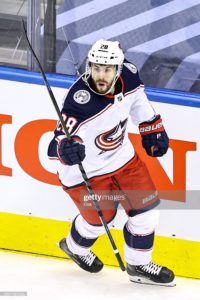 Something that should not go untalked about is that Bjorkstrand became a more vocal leader in the dressing room. He also took on more of a leadership role as a whole. Including being part of a small group of players who spoke with general manager Jarmo Kekalainen after the season about the direction of the organization.
Being a natural goal scorer Oliver Bjorkstrand doubled down on improving his defensive game. Which did improve this season. "The Maestro," as he has been dubbed by teammates has earned the right to be on the Blue Jackets top line. Perhaps that will come next season.
If that is the cans a top line that could potentially pair Bjorkstrand with Patrik Laine could give the Blue Jackets a nice offensive punch that was missing this season.
In a disappointing season, Oliver Bjorkstrand stepped up and showed what is was projected to be. A game changing forward with a wicked shot and now better defense in the mix as well.
What may be best of all is that Oliver Bjorkstrand signed a contract extension right before the season started. A 5 year deal, meaning Bjorkstrand will be in Columbus through his prime years.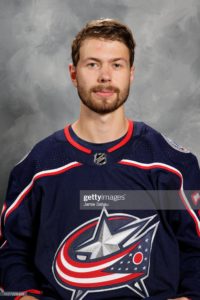 The sky is the limit for the ultra talented Bjorkstrand.