First a congratulations go out to the Tampa Bay Lightning for winning back-to back Stanley Cups. With that, the Columbus Blue Jackets offseason now begins with some questions and some clues as to how President of Hockey Operations John Davidson and General Manager Jarmo Kekalainen will navigate in the coming days, weeks and months.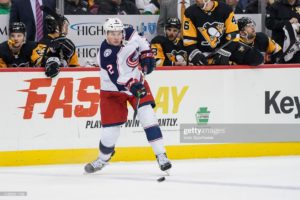 One nice thing that the Columbus Blue Jackets have done is fill out newly named head coach Brad Larsen's coaching staff. Sylvain Lefebvre and Pascal Vincent have been named assistants. Filling out the staff allowed for more time to plot for the 2021 NHL Draft including who they will protect and expose in the expansion draft for the Seattle Kraken to choose from.
As for Davidson and Kekalainen, they must and most likely are doing their part in going over trade packages for defensive standout Seth Jones who informed the team that he would like to test the free agent market which is absolutely his right. The Blue Jackets can receive a big haul for Jones but it must be a haul that fills a need. Either another top defensive player or a top line center should be the targets.
One very good thing the Columbus Blue Jackets have going for them is salary cap space. No matter retool or rebuild the Blue Jackets can speed it up with three first round draft picks and cap space. In what is only a guess on my end, this is what the Blue Jackets will do. Sign players, trade players to reshape the roster.
If the Blue Jackets use all three first round draft picks that to me spells rebuild. If they trade one or two of the picks that to me spells retool. Not much separates a retool from a rebuild other than in a retool a team is adding players to an already existing roster. A rebuild is a sell off on most of the current roster and starting basically from scratch which takes a bit longer.
It is an exciting time to be a fan of the Columbus Blue Jackets. This will be a very interesting offseason.