Fullback is not a glamourous position by any means. The fullback gets charged with blocking, be it for the running backs or on a passing down. They get to carry the ball minimally. In today's pass happy NFL the fullback position has nearly gone extinct.  But the good fullbacks they get remembered. In 1995 the Detroit Lions drafted a fullback out of the University of Nebraska in the sixth round, Cory Schlesinger who would become a Lions legend.
Cory Schlesinger, is still remembered fondly by Detroit Lions fan's as a player who laid devastating blocks for Hall of Fame running back Barry Sanders. Schlesinger was also a special teams standout recording 118 tackles for the unit during his career.
Detroit Lions fans still get a charge out of how many face masks Schlesinger is said to have broken with his all-out style of play. The number of broken steel cages is said to be around the 200 mark.
Cory Schlesinger, was a Lions fan favorite. He also had the love and respect of his teammates and coaching staff. Being a student of the game has helped Schlesinger in all aspects of his life.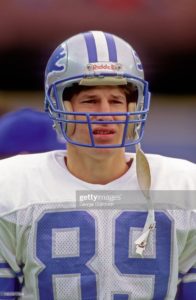 Former Detroit Lions legend, Jeff Chadwick holds a Legends Camp, where former NFL players come and instruct children in the finer points of the game. The former NFL players offer a lot of insight as they go through drills with the children.
For a student of the game like Cory Schlesinger, children can learn a lot from Cory and other former NFL players. The camp prepares young athletes for the next phase of football, where ever they fall.
The Legends Camp is action packed and is a great way for children to bond not only with fellow peers and people they may not know, but also former NFL players who  take time out of their own busy schedule to help children reach full potential on the football field, which they can carry with them in their own lives.