There have been players like this in Columbus before. Rick Nash, Sergei Fedorov and a few others. For the Blue Jackets organization there has never been a player on the same level as Patrik Laine. While he was unhappy in Winnipeg, Laine is said to be happy these days in Columbus his numbers dictate that is true. A pending restricted free agent (RFA) at the conclusion of this season, the Blue Jackets would be wise in entering contract negotiations now.
While Patrik Laine did miss several weeks due to an injury upon returning to the Columbus Blue Jackets lineup, Laine did not and has not missed a beat. In 29 games played, Laine has 16 goals, 15 assists and 31 points.
Blue Jackets captain Boon Jenner has played in all 48 games this season and has 20 goals, 17 assists and 37 points. In 19 fewer games played Laine has only six fewer points than the team leader Jenner.
It is simple, the Columbus Blue Jackets are a much better team when Patrik Laine's skates hit the ice. Laine is a feared sniper who can carry a teams offense. When the team signed defensemen Zach Werenski to a massive extension this past summer it began to show that they are willing to sign young talent and keep them.
When the team allowed Artemi Panarin to walk as a free agent, fans were outraged, disappointed and frustrated that yet another star player was leaving Columbus. With plenty of salary cap space, the Blue Jackets must and I mean must sign Laine to a contract extension of 8-10 years as he has not entered his prime years yet.
There is no fair trade value in the NHL, the Blue Jackets would not be able to trade Patrik Laine and get a player back with the same caliber offensive skill set. The organization would be wise to build the offense around Laine. Blue Jackets fans need to keep in mind next season there is a high likelihood Kent Johnson will be in the starting lineup. Johnson projects as a top line center. Having Johnson feed the puck to Laine could be a lethal  combination for the Blue Jackets top line.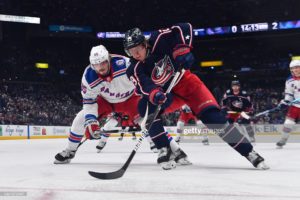 Columbus Blue Jackets general manager, Jarmo Kekalainen recently went on a nation radio show and said the team wants to keep Laine long-term. In my opinion Kekalainen would not say that if he did not think a deal could be made.
The bottom line is that by keeping Patrik Laine, the Blue Jackets rebuild will not take as long. By trading him it would set the rebuild back.