Miguel Cabrera is already a Hall of Fame player. He is one of baseball's all-time great right handed hitters. Yet with any aging player, Cabrera has dealt with injuries the past few seasons. Time has caught up with "Miggy." With the Detroit Tigers in a rebuild and the aging Cabrera in decline. It is not all bad news. Cabrera can reach two big milestones this season.
Miguel Cabrera is 13 home runs shy of 500 and 134 hits short of 3,000 hits for his career. If he was not already a Hall of Fame caliber player reaching two of baseball sure thing (as in the Hall of Fame) numbers would be the clincher.
It is never easy or fun to watch a player who was once the absolute best at the sport they played decline as the years roll on. That has been the case in Detroit with Cabrera, who has not resembled the player who was the American League back-to-back MVP Award winner in 2012 and 2013.
Miguel Cabrera  turns 38 years old in April. Yet for as much as Miggy loves playing the game of baseball, father time can be cruel. As injuries have piled up it has taken the Tigers star player longer to reach 500 home runs and 3,000 hits. Yet, Cabrera still showed up to rehab in order to get back on the field.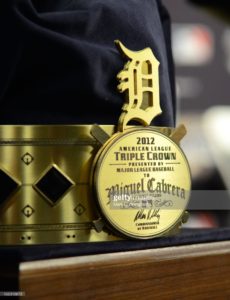 The Tigers have a good minor league prospect pool. One that has Cabrera's replacement in it. But when a player has accomplished so much, there is no need to bump him out of the lineup. After all when healthy Cabrera can still hit pretty good.
So baseball fans everywhere, will root for Cabrera from a baseball point of view. 500 home runs and 3,000 hits is an awesome achievement for any player on any team. They just have to fight father time or at least fend him off.