When Boba Fett entered Jabba the Hutt's palace and sat down on his throne, at the end of Season 2 of Disney +'s smash hit "The Mandalorian" fans drooled with anticipation as "The Book of Boba Fett" was announced. The main question surrounding the announcement was would the new Star Wars offering be a one and done show like the upcoming Obi-Wan Kenobi show? A new rumor says no.
Boba Fett, one the the most beloved Star Wars characters in the Star Wars universe made his triumphant return to the Star Wars scene in this past season of "The Mandalorian." How was this possible you may ask?
According to the old Star Wars Legends  book (which were not considered cannon) Fett used his jetpack while inside the Sarlaac Pit in which he had fallen into during the sail barge incident in "Return of the Jedi."
Jon Favreau and Dave Filoni allowed that to become cannon when the old Bounty Hunter returned. The "Book of Boba Fett" show is working under the title of "Buccaneer" the crew was given some stickers for working on production.
#SpoilerAlert: Before we shared these rumored #TheBookOfBobaFett crew graphics, there was speculation #Buccaneer was the working title for Mando S3 even as of early December – before Boba's show was revealed.

After sharing this image, a BFFC member shared something else… (1/3) pic.twitter.com/ZfeJczgShK

— Boba Fett Fan Club (@bobafettfanclub) May 23, 2021
Notice the sticker that reads "Star Wars, The Book of Boba Fett," also reads Season 1 under the heading. Hinting that there will be more than one season. The news was joyful to Star Wars fans.
Not only did a popular character return. Not only was he getting his own spinoff show. But now it appears that show will be more than one seasons. How many seasons? That is the million dollar question. But for now knowing it will be more is good enough.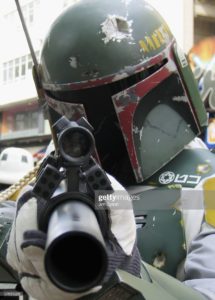 "The Book of Boba Fett" is set to begin streaming Christmas Day 2021.