The 2022 Legends Football Camp started out in a rain delay. Even the weather could not dampen camp attendees spirits. Legends Camp founder Jeff Chadwick saw his vision once again come to life. From a person who was roaming around listening to stories and seeing the awe and pure joy on middle school age children's faces it became clear, the camp has become more polished.
As former players (some teammates and some NFL veterans) filtered into the sports complex in Clare, Michigan the handshakes and hugs showed just how tight a bond these former players have with one another. The stories they shared the laughs and concerns they showed one another was a reminder how we need relationships in life.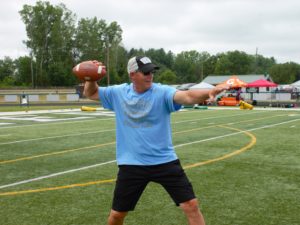 The children were ready. I honestly believe they would have forged through the rain in that was the plan. The rain delay seemed to only make the build up more intense.
The players (who doubled as coaches) met with the children at the 50 yard line for introductions and a breakdown of the days plans and activities. Players got the children fired up.
First on the days docket was stretching some were met with "alright!" some were met with "oh man!" But, this is what parents signed the athletes up for, to learn from the best.
Players were separated into position pairings, where they were put through a series of drills. The smiles, focus, being upset after not getting a task done just right added to the fun.
In 2019 when the Legends Football Camp had just started up it was more a trial and error first outing. It is clear that Jeff Chadwick and his staff went over what went well and what needed polished. This year, rain aside the camp ran smoother. Some things were left out some things were added.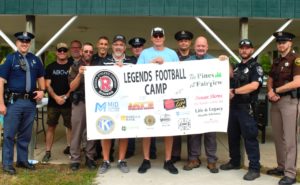 There is a real community first feel to what the camp is doing. The proceeds from the Camp is going back into the community. In fact it was a very touching moment and heartfelt when the Legends Camp honored former police chief, Brian Gregory.
As far as the Legends camp has, it is clear the focus is on making it better. As a former Detroit Lions and NFL wide receiver, Jeff Chadwick knows it is important to continue to strive for perfection.
All and all it was a successful day 1. If you were at the camp drop a comment and share your thoughts.